3Spheres Robotics Project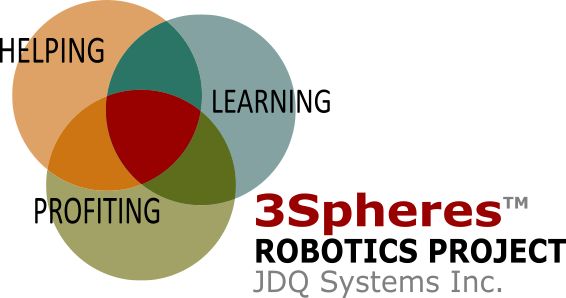 Our vision is to design and prototype a Collaborative Service Robot that will help people with developmental disabilities reach their personal goals and achieve greater independence.
The core use cases are:
• Autonomous Navigation
• Human & Object Recognition
• Social Interaction
• Appointment Management (intelligent personal assistant)
Research Partners:
Video Blogs:
Aether at DDA Social Interaction Demo
Aether the robot getting to know staff at DDA
by recognizing a persons face
Robot Trial #1 at DDA Group Home
Simulation of Group Home Mapping (SLAM)
Interview with DDA's Director of Residential Services
Mapping the DDA Group Home with Robot Prototype
Aether the robot a welcome addition to B.C. group home
Aether is capable of speaking, following orders and moving
from room to room
Care home introduces new high-tech helping hand
Care home introduces new high-
tech helping hand.
Robot lends people with disabilities a helping arm
Meet Aether, a robot helping B.C. group home residents
• Client Identification Trials and Data Collection
For more details about the project activities, see our Robotics Blog