JUMP!Forward™ Project Management
In today's competitive business world, rapid change and complex scenarios are a certainty. Your organization's ability to efficiently coordinate resources and business procedures while maintaining strategic objectives is often the difference between growth and stagnation.
Finding and following a critical path by planning and tracking projects with intelligence and precision is half the path to success. The other half is how you deal with uncertainties. Equipping your project team to recognize uncertainty and mitigate its associated risk are a main focus of our JDQ JUMP!Forward Project Management product. Communication is at the core of our methodology: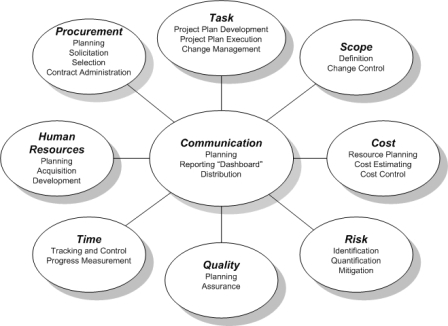 JDQ's JUMP!Forward Project Managers meet the challenges of projects "head-on", realizing mission-critical deliverables on time and on budget. Over 25 years of actualizing our clients' goals, JDQ has developed a comprehensive project management methodology based on an understanding of change and of human behavior.
JDQ's JUMP!Forward Project Management offers clear advantages:
JDQ JUMP!Forward Project Management creates clear direction, efficiency, timely response, and quality outcomes. We accomplish this by incorporating current best practices with innovative proprietary web-based technology to realize your project deliverables.
JDQ's innovative ProjectWatch web-based project management application enables project teams and clients to rapidly communicate project information via JDQ's extranet and provides full visibility of project progress.
We believe in collaboration and team work to maximize the available knowledge base and resource pool.
Our Collaborative Discovery Approach creates a focused, comfortable, safe and motivating place for inquiry.
We are experts at project planning. While always maintaining a vision of the total project, we are careful to include all the details.
JDQ project managers allocate resources for "best fit" between client needs and capability, mediate conflicts effectively, and are experienced enough to know when to involve senior management and when to empower employees.
We are always ready to work with your other vendors to ensure your project goals are met.
Most significantly, we are experts at thinking on our feet. Finding all these capabilities in one place helps you secure higher operating efficiencies quickly and with assurance while saving money.