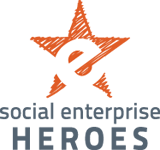 On May 27, 2015, the Social Enterprise Heroes will reconvene for its 7th year at The York Theatre, the newly renovated 100 year old historical jewel of East Van [639 Commercial Dr, Vancouver, BC V5L 3W3].
It's a celebration, a competition and learning experience, all rolled into one spectacular event. You don't want to miss this annual celebration of the BC social enterprise sector.
Social Enterprise Heroes engage & connect the BC social enterprise sector this May in Vancouver. JDQ Systems is a proud co-founder and presenter of the Social Enterprise Heroes event. And JDQ Systems is also contributing $10,000 worth of business process improvement and technology expertise for a lucky finalist this year!
Social Enterprise Heroes – Evening of May 27, 2015. Save the Date. Tickets on sale now!
During Heroes, we focus our attention for one evening on the incredible work of several social enterprises. We seek to understand and address some of their major challenges in effectively creating impact. Challenges that we can learn from together – and challenges which can often be overcome with the right combination of financial support & expertise. Our social enterprises leave Heroes having a deeper understanding of their business, seeing challenges and opportunities for what they are, and with the right combination of tools & resources needed to create change more effectively.
And we do this all in a fun and informative way – a "pitch" competition for monetary and in-kind expertise awards, complete with our heroic panel of non-profit and for-profit advisors, including JDQ President, Jon Morris, and a carefully selected roster of promising social enterprises. There is a keynote speaker to inspire and inform, and the presentation of a Top Hero award which recognizes a specific individual achievement or contribution.
This years finalists include:
Richmond Youth Services, coached by: Vancity Community Foundation. Richmond Youth Service Agency is a leading provider of programs and services that are responsive to the diverse needs of children, youth and families in Richmond, BC.
Clean Start, coached by: KPMG. A social enterprise fully owned by Simpson Community Development Society, Clean Start provides customers with a social return on investment. Its mission is to provide top quality professional junk removal services while also offering employment opportunities to people who have barriers to employment, such as poverty and disability. Clean Start hires, trains, and supports marginalized individuals, contributing to community economic development in the Downtown Eastside and other parts of Metro Vancouver.
Shatford Centre, coached By: Junxion and BDC. The Shatford Centre is a entrepreneurial creativity centre dedicated to creative well-being. It is a social enterprise of the Okanagan School of the Arts and is located in Penticton, BC.
For tickets and more information:
www.SocialEnterpriseHeroes.ca
Social Enterprise Heroes is hosted by Enterprising Non-Profits and presented by JDQ, KPMG, Junxion Strategy and TELUS. Sponsors include Sierra Systems, ASQ Vancouver, Vancity Community Foundation and Mills Basics.
About Social Enterprise
Social enterprises are businesses owned by nonprofit organizations, that are directly involved in the production and/or selling of goods and services for the blended purpose of generating income and achieving social, cultural, and/or environmental aims. Social enterprises are one more tool for non-profits to use to meet their mission to contribute to healthy communities.